Get Kidney Stones Treatment From Urologic Institute
The kidneys – bean shaped organs – lie on each side of the spine, near the middle of the back and just below the ribcage. The ureters are tubes which connect the kidneys to the bladder and transport the urine produced by the kidney to the bladder for storage.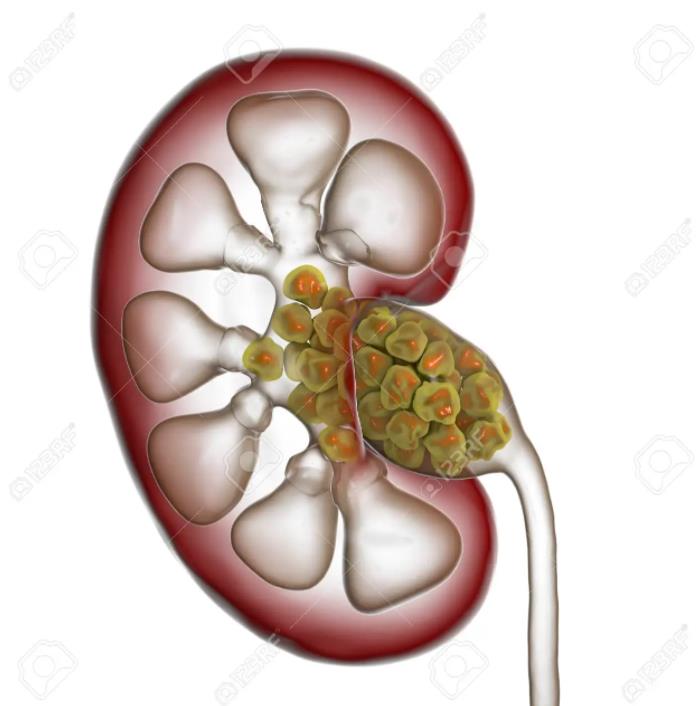 Often, when stones are located in the kidneys, there are no symptoms and it is only when they travel down into the more constricted space of the ureter that acute pain develops. Pain tends to develop in the kidney if the stone becomes large enough to block the flow of urine. Symptoms may include the following:
Renal colic – severe loin pain starting in the small of the back below the ribs or in the lower abdomen, which can also travel to the groin. The excruciating pain can last for a few minutes or hours with short periods of relief.
Feeling nauseous and possibly vomiting.
Bloody or cloudy urine.
We offer patients Metabolic Stone Screening. This investigation (non-invasive, it requires the patient to collect all urine that is passed within two consecutive 24hr periods) will determine the reason that kidney stones are being formed in the first place. This is turn will help the Consultant to advise on preventing the formation of further kidney stones. Over 50% of kidney stone patients will form another stone in the next 10 years.
Genetics: In approximately 25% of cases the cause is genetic, where there is usually a family history of kidney stones.
Geography: Chronic dehydration is a major cause in the formation of stones because many people do not drink enough fluid and those living in hot climates are more susceptible to kidney stones.
You will be asked about your symptoms and diet. A diagnosis will need to establish the exact size, location and type of kidney stone you have. The investigations, using radiological imaging, such as a CT scan, will diagnose the site and size of the stone and the degree of kidney blockage, and can usually be done quickly during the first visit.
Other tests may include:
Urine test for infection.
Blood tests to show whether you have high levels of certain chemicals linked to kidney stones.
X-rays – stones containing uric stones are usually not seen on x-rays.
Ultrasound scan of the urinary tract.
Pain relief is the first priority and there has been a trend toward the use of anti-inflammatory agents (NSAID). Not all patients require hospital admission. However, it is mandatory in some circumstances, especially in the presence of infection and kidney blockage.
Our trusted Consultant Anaesthetists are all experts in their fields, with an established history of specialism in kidney surgery, along with our team of nurses, who have been treating patients with stones for many years, offering clinical expertise as well as sound advice and reassurance throughout the entire treatment process.
Frequently Asked Questions
What is the best treatment for kidney stones?
Percutaneous Lithotripsy (PCNL) is the best treatment for large stones in the kidney. General anesthesia is needed to do a PCNL.
Can kidney stones be cured?
Most kidney stones can be treated without surgery. Ninety per cent of stones pass by themselves within three to six weeks. In this situation, the only treatment required is pain relief. However, pain can be so severe that hospital admission and very strong pain-relieving medication may be needed.
What foods trigger kidney stones?
Avoid stone-forming foods: Beets, chocolate, spinach, rhubarb, tea, and most nuts are rich in oxalate, which can contribute to kidney stones. If you suffer from stones, your doctor may advise you to avoid these foods or to consume them in smaller amounts.
How long do kidney stones last?
A stone that's smaller than 4 mm (millimeters) may pass within one to two weeks. A stone that's larger than 4 mm could take about two to three weeks to completely pass. Once the stone reaches the bladder, it typically passes within a few days, but may take longer, especially in an older man with a large prostate.
Can you see a kidney stone in the toilet?
By then, if there was a kidney stone, it should pass from your bladder. Some stones dissolve into sand-like particles and pass right through the strainer. In that case, you won't ever see a stone. Save any stone that you find in the strainer and bring it to your healthcare provider to look at.